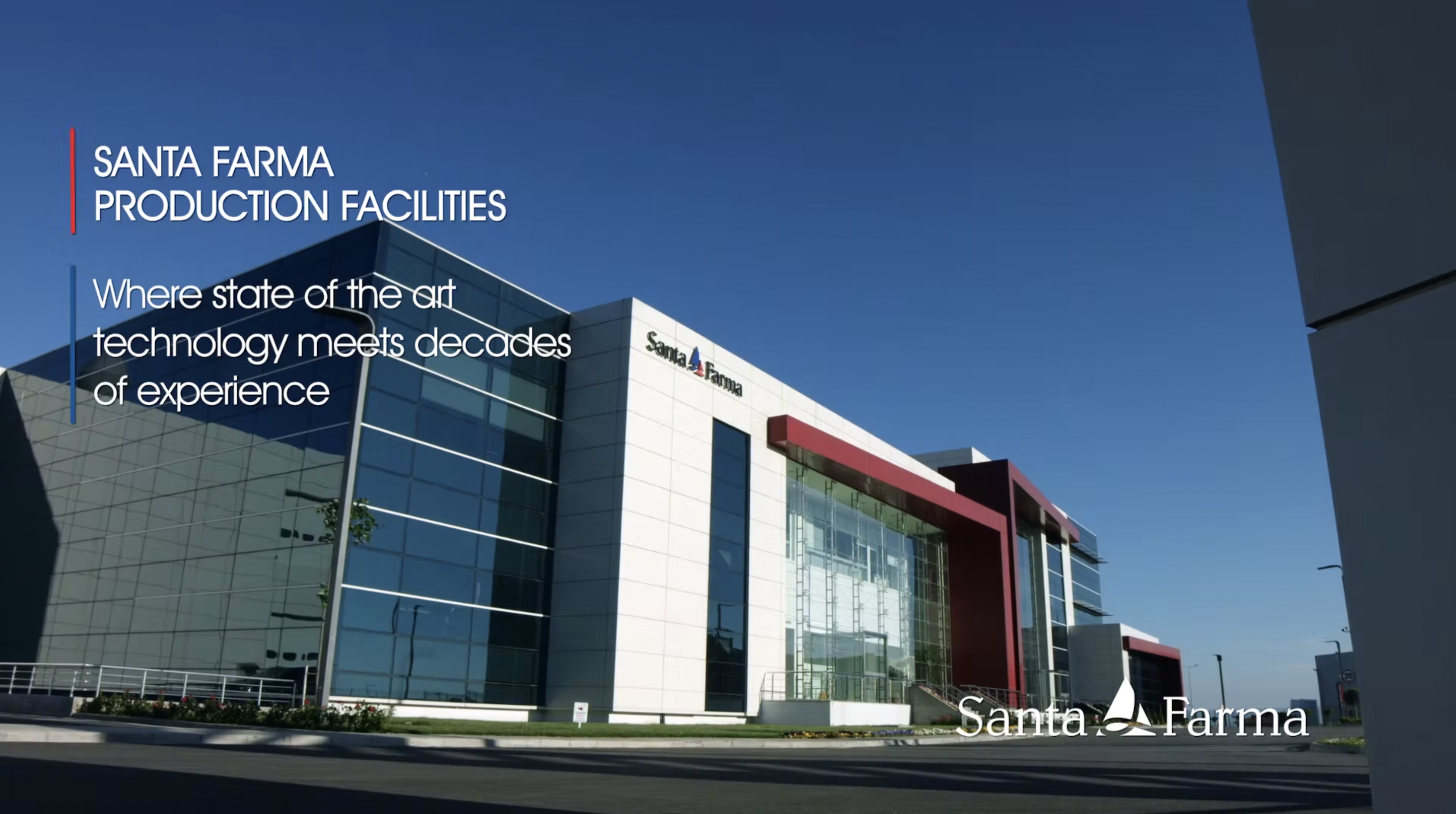 Production capacity of 150 million units in a single shift
The production facility, an investment of more than EUR 150 million, started to be built in 2012 and was inaugurated in late 2015. The facility is located in Dilovası GEBKİM OIZ. Built on a land of 80,000 m2 with total indoor area of 44,000 m2, the new plant is outfitted with state-of-the art production and laboratory equipment manufactured by leading brands in the pharmaceutical industry and certified to meet all cGMP and cGLP requirements.
All the data, generated with the most modern equipment meeting all the requirements of cGMP and cGLP in international standards, are stored under the warranty of recovery, providing total track and traceability. The production facility received production permit from Turkish Ministry of Health in June 2015 as well as GMP (Good Manufacturing Practices) certification while EU-GMP (European Union Good Manufacturing Practices Compliance) certificate was issued in November 2016. Santa Farma makes efforts to receive ISO 9001, ISO 14001, OHSAS 18001 certifications based on the principle of adherence to FDA standards. Moreover, Data Integrity system has been put in place as it becomes one of the standard practices all over the world for leading pharmaceutical companies. The facility has passed the audits conducted by various international authorities successfully.
Santa Farma has come to be known as a leading company capable of manufacturing the largest volume in a single shift in Turkey since the facility having an indoor space of 44,000 m2 on a land of 80,000 m2 in total boasts of a production capacity of 150 million units in a single shift. Santa Farma Production Facilities can manufacture various pharmaceutical forms in various batch sizes such as 15 to 1,000 kg for solid forms, 100 to 1,250 kg for semi-solid forms and 400 to 13,000 litres for liquid forms.
"Uncompromising reliability" in contract manufacturing
Santa Farma aims to provide its customers with the best contract manufacturing services in its modern facility based on high quality principle so as to become the most reliable and preferred contract manufacturing company in local and international pharmaceutical markets. Based on the understanding that the most important factor is "uncompromising reliability" in contract manufacturing, Santa Farma monitors all the processes strictly to promote seamless and fast communication and functioning from the contracting process till the end of the product transfer. Companies which prefer contract manufacturing are thus able to focus on their main operations such as sales and marketing and create significant cost advantages thanks to the combination of high quality facilities and experienced technical staff.
Solid Forms

Semi Solid Forms

Liquid Forms

Tablet
Core, Film, Sugar and Enteric Coated

Cream

Syrup

Hard Gelatin Capsule
Granule, Pellet and Tablet Filling

Ointments

Spray/Drop

Powder for Suspension
Vial and Sachet Filling

Gel

Effervescent Tablet and Granular
Santa Farma Production Facilities are also capable of manufacturing pellets.
All semi-products are packaged in full automatic packaging lines equipped with electronic control systems capable of sorting out defective products. All packaging lines are integrated with 2D coding system.
Quality Control
Quality Control Department is comprised of 4 units on an indoor area of 2550 m2.
Product/Raw Material Control Laboratory
Physical/Chemical Analysis Laboratory
Microbiology Laboratory
Validation and Stability.
All of the quality control activities are conducted with state-of-the-art equipment meeting all the requirements of cGLP. All of the generated data are stored with the warranty of recovery.
Warehouse
The new warehouse of 1,700 m2 indoor space built next to the production facility can take 10,098 pallets.
BMS
Building management system is used for monitoring, managing and reporting temperature, moisture and pressure data in all areas in the production facilities on 24/7 basis.
R&D
Santa Farma İlaç San. A.Ş. aims to contribute to the R&D vision in Turkey by means of innovative approaches to research and development of "human oriented" pharmaceutical policies. In that respect, the company has built one of the impressive modern "R&D Centres" in Turkey as a four-storey building located on a land of approximately 4,000 m2 in Dilovası campus.
"Santa Farma R&D Centre" is comprised of a pharmaceutical analytic development laboratory/instrumental analysis laboratory, wet chemical laboratory, pharmaceutical technology laboratories, and stability chambers and it has come to be known as one of the state-of-the-art R&D centres in Turkey in terms of aesthetic form and technical means along with its spacious offices and staff relaxation areas.
Staff Qualification
Santa Farma R&D Centre owes its success to a young and dynamic team made up of pharmaceutical chemists, pharmaceutical technology specialists, patent and clinical specialists. R&D Centre team is comprised of professional with B.Sc., M.Sc. and Ph.D. degrees who can work fast in a solution oriented manner by questioning the cause-effect relation as a result of analytical thinking capabilities. The team works based on the awareness that success will come only as a result of teamwork and sharing of responsibilities and a good teamwork is one of the most important parameters for success. The ideas, works and developments yielded through this outlook are offered to the disposal of patients and pharmaceutical industry in the form of brand new products and processes developed as a result of the know-how of Santa Farma.
R&D Vision
Santa Farma R&D Centre is a business unit rooted in the corporate culture rather being merely a research and development centre. It offers consolidated services to its national and international business partners. In that respect, Santa Farma R&D Centre aims to develop new products for the pharmaceutical industry, develop and optimize the processes to reduce costs, increase productivity and offer long lasting solutions through an environmentally friendly outlook.
Santa Farma R&D Centre is dedicated to update its outlook and structure constantly to embrace new ideas as an institution that continuously improves its competitive power thanks to its innovative vision, industry leading approaches and investments.
Quality Approach
Santa Farma R&D Centre upholds quality as a privilege so as to develop products with high added value in all steps of product development process and aims to offer alternative and easily accessible treatment options to patients with its "human oriented" approach. In that respect, it performs studies in line with globally leading scientific guidelines (US-FDA, EMEA, WHO, ICH) with due regard for Quality by Design (QbD) approach which is recognized all through the work and reflects all updates in its studies.
Operational Fields and Advantages
Santa Farma R&D Centre is distinguished as a One Stop Shop which directs the entire product development process from a single centre. It follows European based working processes in that it is equipped with commercial production lines certified by leading Turkish and European authorities and capable of providing national and international business partners with professional services as a one stop shop. In general, R&D Centre offers the following services:
Patent Screening and Assessment,
Raw Material Characterization and Pharmaceutical Analysis,
Pharmaceutical Product Development for All Dosage Forms,
Analytical Method Development, Optimization and Validation,
Laboratory Scale and Scale-Up Production,
Proses Optimization and Validation,
Laboratory and Formal Stability Studies,
Bioequivalence and Clinical Studies,
Technology Transfer Studies,
Co-Development Projects,
Public – University – Industry Collaboration Projects,
| Departments | Capacity |
| --- | --- |
| Solids (Blistered Products) | 59.746.500 |
| Granule Filling (Bottle) | 1.051.875 |
| Granule Filling (Sachet) | 308.550 |
| Effervescent | 3.740.000 |
| Semi Solids | 22.000.000 |
| Liquids (Syrup) | 33.099.000 |
| Liquids (Spray) | 31.135.500 |
| Total | 151.081.425 |